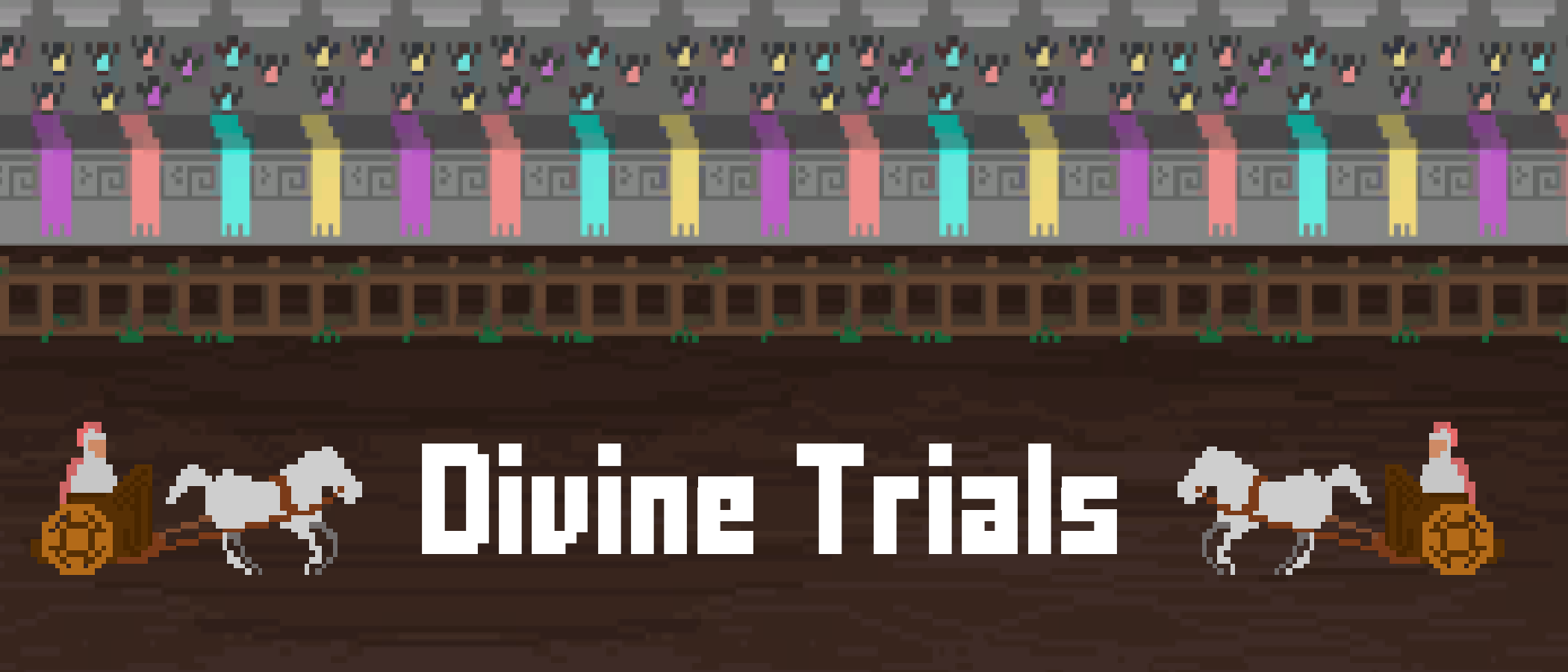 Divine Trials
Description
You are hero that will face the divine trials: a series of 1 vs 1 battles against the most formidable opponents of the Greek civilization. But for that, not only you need to be skillful in the arena, but also you need to please the gods by giving them gifts in exchange for power.
Divine Trials is a bullet-hellish boss rush game where you face different bosses in order to achieve the feat of beating the trials made by the gods.
bullet hell - check
formidable bosses - check
amazing pixel art - check
stunning soundtrack - check
FUN - check
---
Patches
-> Divine Trials v1.0 (18-DEC-2018 5:50AM GMT-3)
This is the version submitted within the game jam deadline. It is available in the Download section for the Windows platform.

This is the version that is currently available to be played in the web in this page.
-> Divine Trials v1.1 (19-DEC-2018 1:50AM GMT-3)
This is a minor bug fix patch post-jam. The following topics are exactly the changes made in this patch in comparison to v1.0.
The version submitted within the game jam deadline is v1.0.

This version is currently available only as a windows downloadable and will be updated to the web version once the jam evaluation period is over.
Fixed a bug where you could be offered the same choice more than once between trials
Fixed a bug where the text of the choices was slightly misaligned
Fixed a bug where you would be hit in the choice screen from the projectiles of the previous fight, making you start your next trial with less HP than the intended
Rephrased the wording in the choices screen to notify the player that lifes are reset between each trial and that the sacrifice buff/debuff is only 1 life
---
Extra Credits Holiday 2018 Game Jam
This game was made in 5 days as an entry for the Extra Credits Holiday 2018 Game Jam. Chick here to check other entries:
https://itch.io/jam/extra-credits-holiday-2018-game-jam/entries

The theme of the jam was "present". We decided to approach the theme with the idea that presents must be given to the Gods in exchange for benefits that will help your hero to beat the divine trials ahead.
---
Controls
WASD = Movement
SPACE = Shoot Projectiles
---
Credits
Bernardo Hörner - Game Systems Programming
Gabriel Barros - Sound Design and Music
Ian Albuquerque - Visual Assets and Enemy AI
Renan da Fonte - UI Programming
---
Special Thanks
Eduardo Wichrowski
Raphael Ramos
João Victor Galindo
RPG - Rio PUC Games
---
Download
Comments
Log in with itch.io to leave a comment.
Super fun, though it's a little Darksoulish! Great game, guys.
FUN? Double check.

That Centaur was the end of me T-T I couldnt defeat him. I would love to see those awesome sprites bigger!

Thanks for the great game!
Wow, thank you! We're glad you enjoyed it! <3
Yeah, the Centaur is quite a formidable foe, but there is a strategy you can apply to counter him!
I won't tell you what it is, but it makes it seem like you're dancing with him ;)